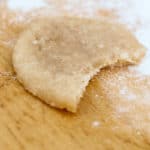 Print Recipe
Sugar Cookies Easy Bake Oven Recipe
This Sugar Cookies Easy Bake Oven Recipe is delicious. The Easy Bake Oven sugar cookies are so warm and heavenly when you eat them. My favorite time to make this sugar cookies Easy Bake Oven recipe is when we are about to have a bedtime snack because they are so quick and easy.
Mixing bowl

Easy Bake Oven
6

teaspoons

butter

3

teaspoons

sugar

3

teaspoons

brown sugar

1

pinch

salt

¼

cup

flour

⅛

teaspoon

baking powder

⅛

teaspoon

vanilla
Preheat Easy Bake Oven for 20 minutes. Grease pan with butter and set aside.

In a small bowl mix butter, sugar, and salt. Add flour, baking powder, and vanilla. Stir until it forms a batter.

Cool and enjoy!