Mango yogurt smoothie is my go-to smoothie all year long!  It's ridiculously easy to make and tastes super yummy!  This frozen mango smoothie can be whipped up in minutes and only has 5 ingredients so even my 3-year-old brother can help!
Try this mango smoothie recipe for breakfast alone or with some cookies like Rosemary Shortbread Cookies or Key Lime Cookie Recipe for a bedtime snack. This is my own original mango smoothie creation! We call it "Mango Mania" at our house!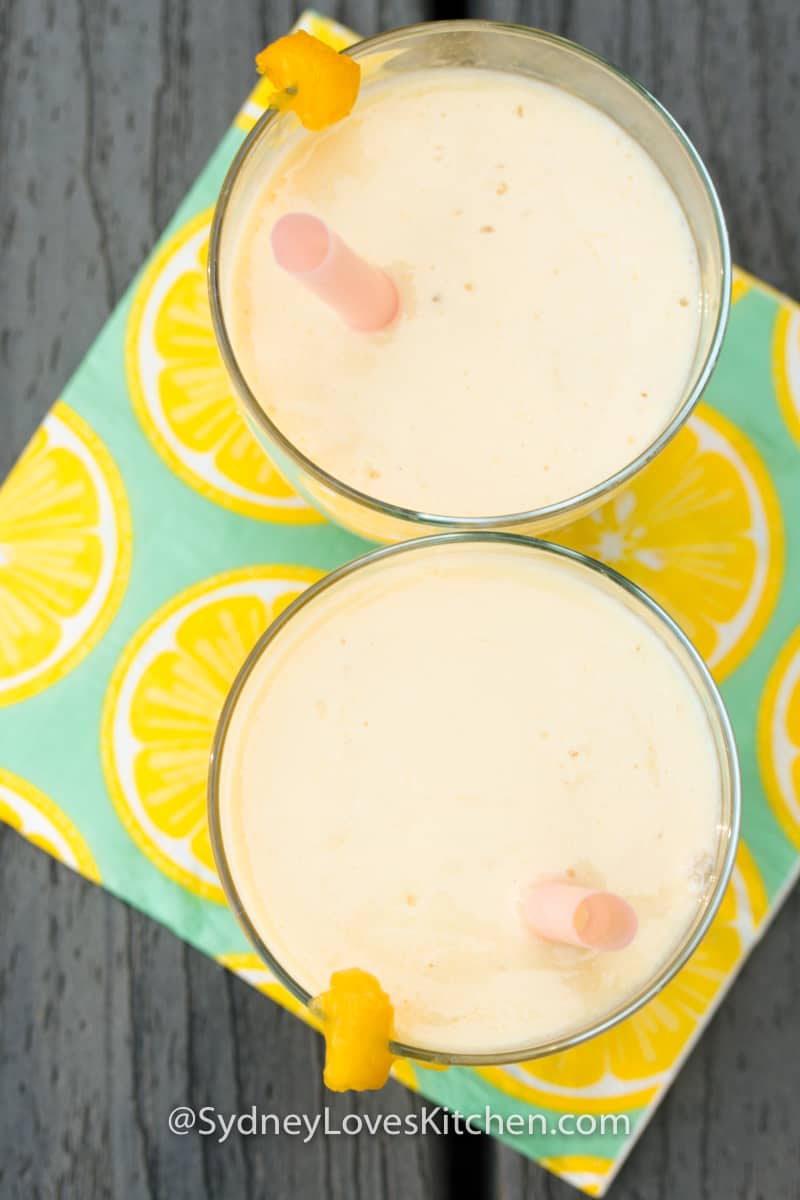 This post may contain affiliate links. Please read my disclosure policy.
Follow SydneyLoveskitchen on Pinterest for more great recipes and ideas!
PIN this Mango Yogurt Smoothie recipe to your Breakfast Board!
How to Make a Mango Yogurt Smoothie
How do you make a mango smoothie you ask? Well if you think it is easy – you are correct! It is so easy that you could make it before work or school and it will take you a maximum of 5 minutes. I've got it down to a science and it now only takes me 4 minutes.
All you have to do is:
Add the liquid ingredients first to the blender so they are on the bottom of the blender.
Put in frozen mango (or fresh cut mango – see below), Greek yogurt (or any yogurt), applesauce, milk, and honey (and those are things you probably will find around the house).
Blend for 2 minutes and gradually increase the speed to the maximum speed. Serve or pack for your lunch and that's it!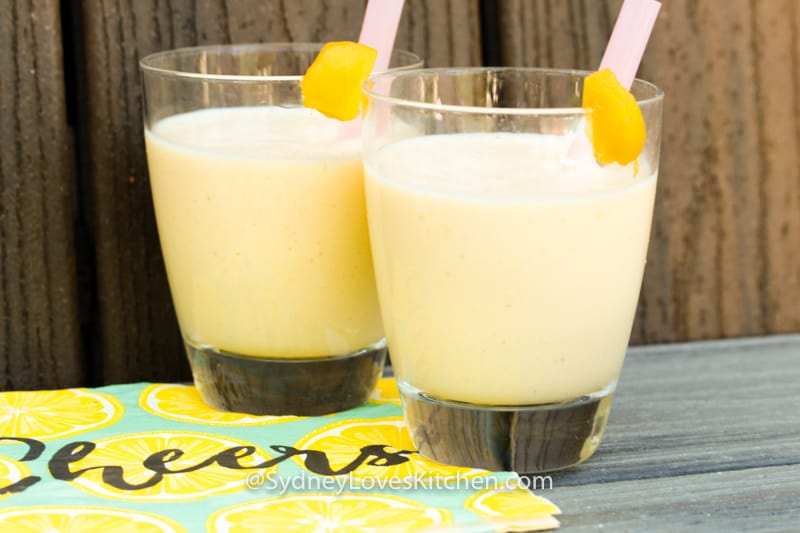 What Fruit Goes Well in a Mango Smoothie
Mango goes so well with fruit like peaches, bananas, berries, apples, papaya, and coconut. I also think mango tastes amazing with caramel, cinnamon or mint and so many other delicious things.
What You Can Do With Leftover Smoothie
Well normally our family does not have any leftover smoothie but you can freeze the smoothie by pouring it into an ice tray so you have small cubes of smoothie.  This is a great way to eat leftovers smoothie, especially if you have small kids because you could say that it's ice cream. It tastes so good they will be wanting more.
When you want a full-size smoothie, add 5-6 of the smoothie cubes to the blender, some fresh mango if you have it and a little bit of milk or almond milk, and presto you have a mango smoothie again!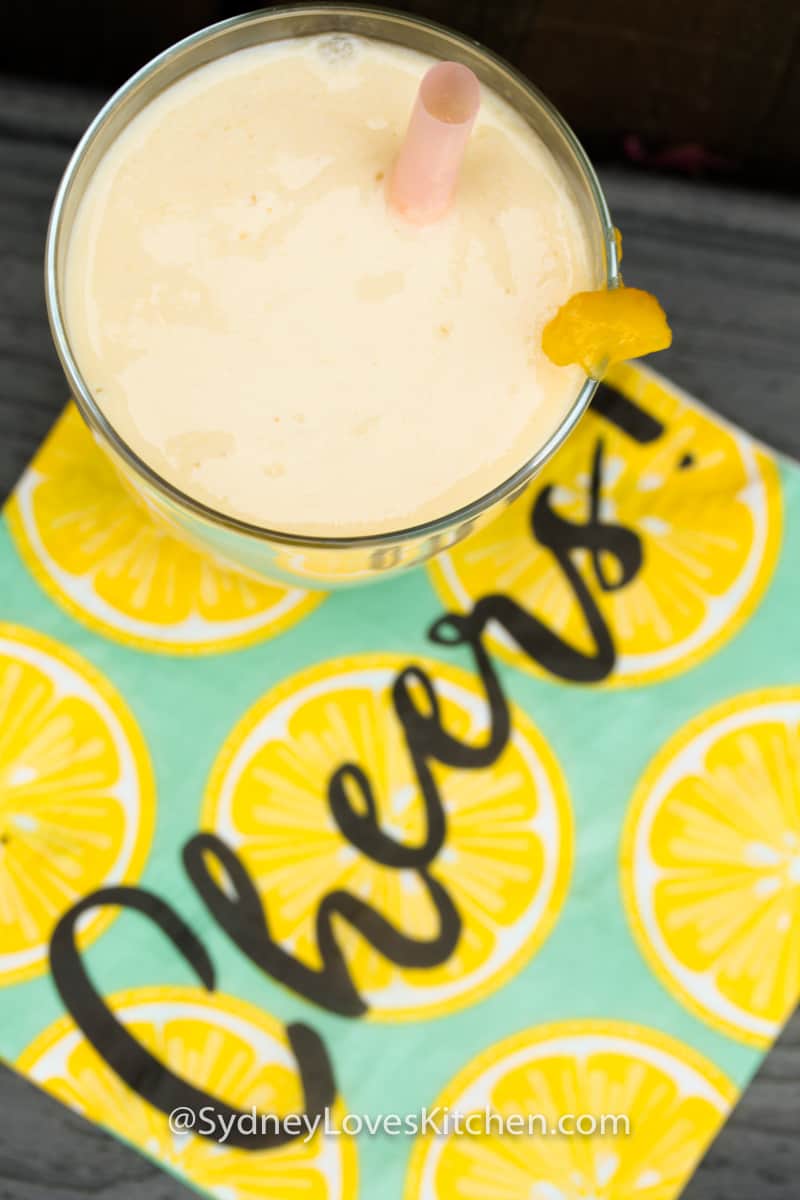 How to Cut a Mango For a Smoothie
Slicing a fresh mango for a mango smoothie can be tricky but when you get the hang of it, it gets easier.
Find out where the flat part of the pit is located and cut right beside it on both sides of the mango from top to bottom.
Take the two cut pieces and turn them over so you can see the inside (the yellow part of the mango).
Cut lines 1/2 inch apart horizontally and vertically making a grid pattern on each piece being careful not to cut through the skin.
Use a spoon to scoop out the mango squares and voila! (Or pop the skin to expose the mango to the outside and cut it.)
Don't waste the rest of the mango so make sure you eat the pit.  It's messy but man it's good!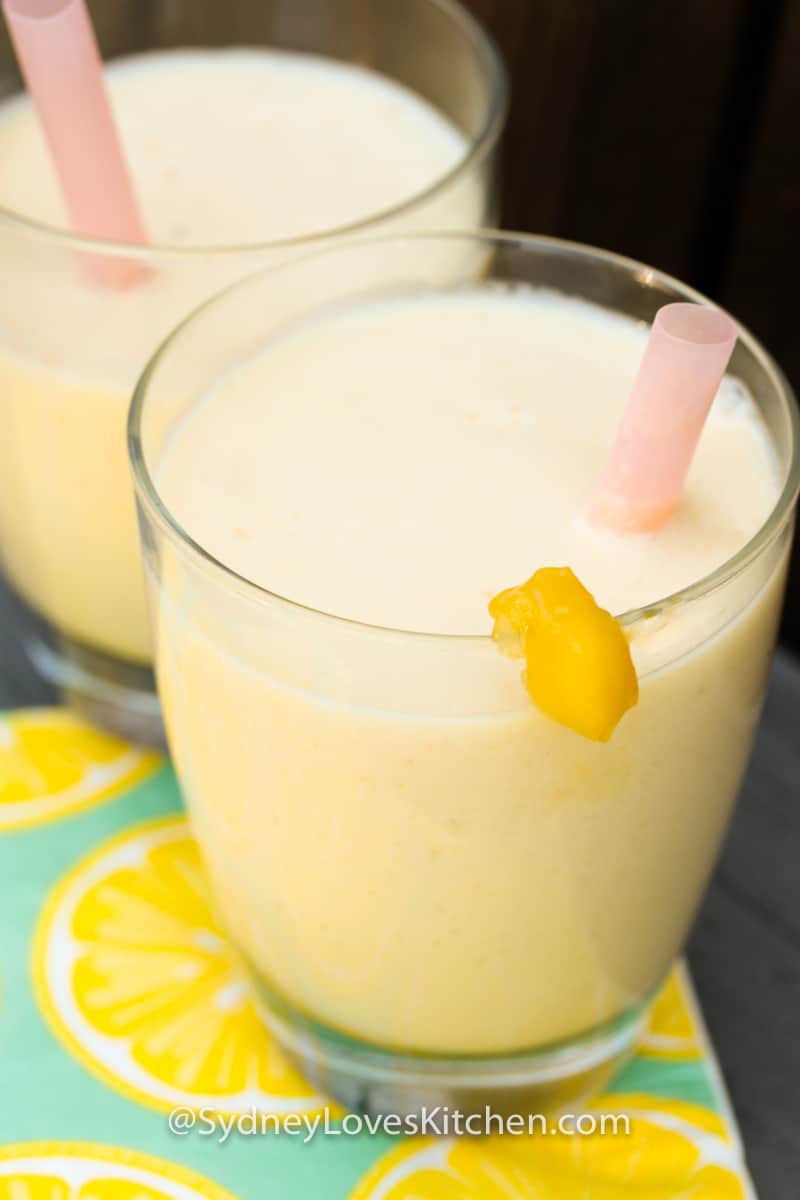 How to Freeze Mango For Smoothies
First, cut the mango as described above.  Spread the mango cubes out on a baking sheet and put them in the freezer for 6-9 hours. Remove from the freezer, put them in freezer ziptop bags or reusable Stasher bags. Then pop the bags of mango cubes back in the freezer until you need them for another mango smoothie. This is called flash freezing.
If you just put the fresh mango cubes straight in the bag and into the freezer, they will stick together into one giant frozen clump of mango.  You will then have to thaw them before adding them to the blender which would take a long time. Trust me – freezing them on a cookie sheet is a real time saver!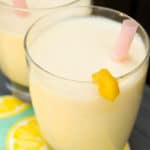 Print Recipe
Mango Yogurt Smoothie
Mango yogurt smoothie is my go-to smoothie all year long!  It's ridiculously easy to make and tastes super yummy!  This frozen mango smoothie can be whipped up in minutes and only has 5 ingredients
Equipment
Vitamix blender

Bullet blender
Ingredients
1 ½

cups

milk

any type

1

cup

Greek yogurt

1

cup

applesauce

1

cup

frozen mango

1 ½

teaspoons

honey
Instructions
Add all ingredients to a Vitamix blender (or other blender) in the order listed. Blend until smooth (about 2 minutes).

Serve with a slice of mango.
Nutrition information does not include optional ingredients or garnish and is an estimate. It may change based on actual ingredients and cooking methods used.
PIN this Mango Yogurt Smoothie recipe!