This Key Lime Cookie Recipe is so chewy and delicious it will make your mouth water with every bite. This moist supreme lime cookies recipe from Pillsbury key lime cake mix cookies makes it so easy to prepare and gives you lots of time to eat them. Key lime cookies are my best friend's favorite treat to make during sleepovers.
I love cookies, and love making them any chance I get. Check out my Rosemary Shortbread Cookies!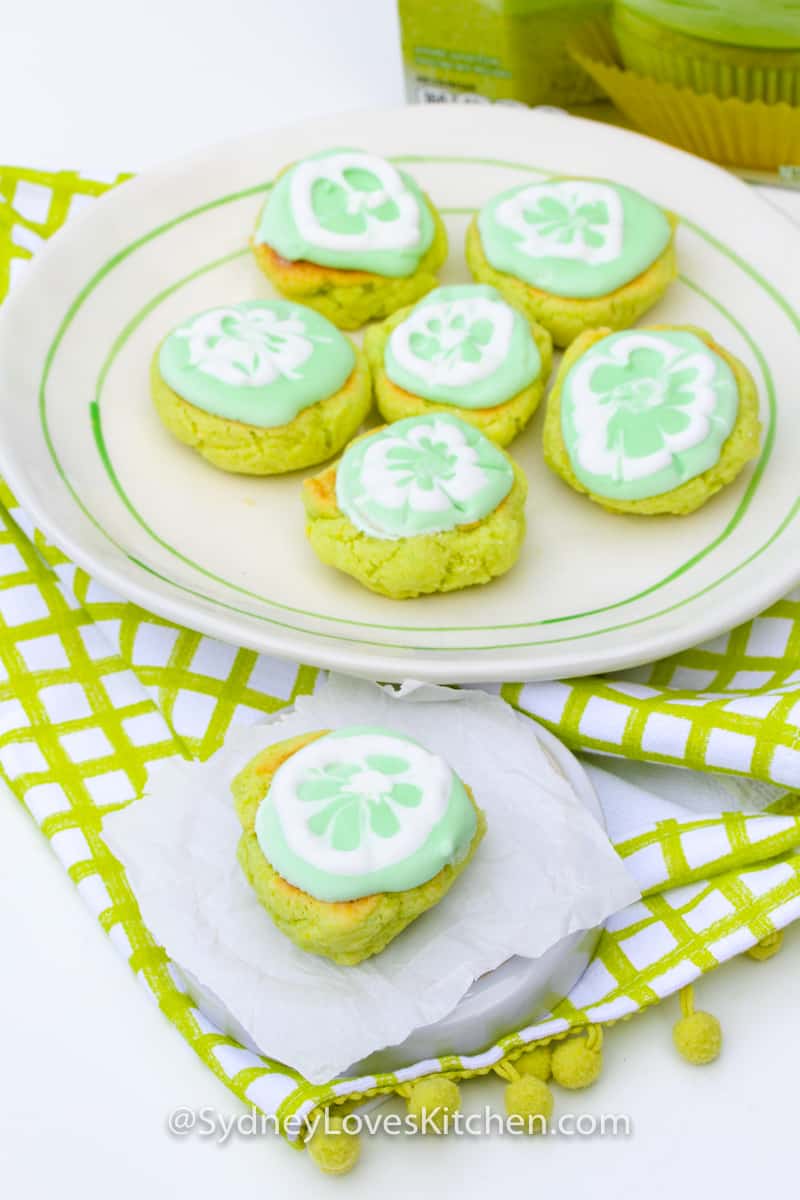 This post may contain affiliate links. Please read my disclosure policy.
Follow Sydney Love's Kitchen on Pinterest for more great recipes and ideas!
PIN this Key Lime Cookie recipe to your Dessert Board!
Sharing is caring!
How to Make Key Lime Cookies
If you don't have time and your parents are giving you chores, this chewy lime cookies recipe is an easy lime cookie recipe. There are only 3 ingredients in this key lime cookie recipe so making the cookie dough is the fastest part of this recipe. The hardest part of the recipe is making the icing and waiting for the cookies to cool so you can eat the lime decorated cookies.

Ready to make easy lime cookies? Easy is a theme, and the recipe is so easy:
Mix the three ingredients together in a bowl with your mixer
Roll the dough into balls and put on a cookie sheet
Bake the cookies
That's it!

Decorating is pretty easy too. Practice on a cookie or two and you'll have the lime pattern figured out.
My friend and I have the most fun decorating these key lime tea cookies. (my Dad says we make the most mess too). I love squeezing the fresh lime juice and tasting it. I love adding the food coloring and getting the right shade of lime green. Don't get any of this on your fingers because you can't get it off your skin easily. It's so much fun and easy to make the look of the lime slice on the lime decorated cookie.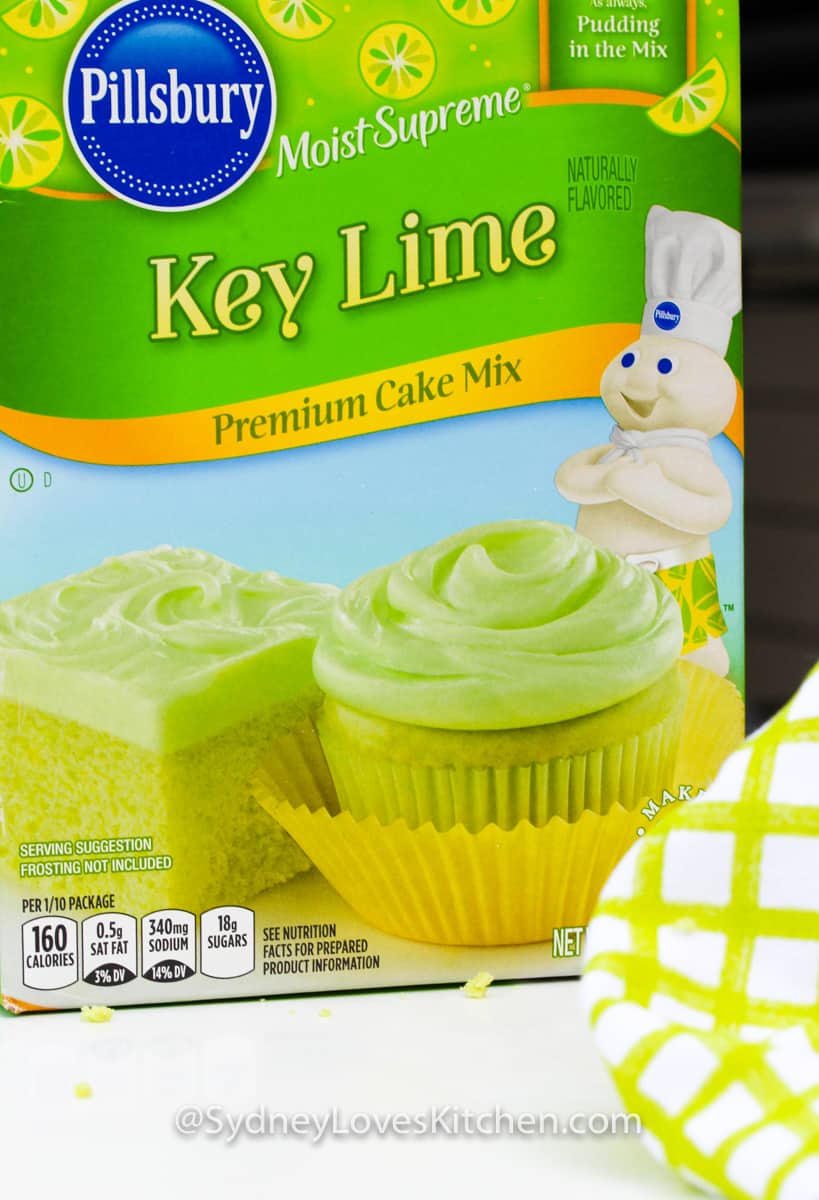 There are many different types of cookies with lime such as lime sugar cookies, lime butter cookies, key lime tea cookies, lemon, and lime cookies. I haven't added the recipes for these to Sydney Love's Kitchen yet – but stay tuned!
Similar Cake Mix Cookies
Making lime cookies from cake mix is easy and fun. My friend and I have tried other cookie recipes similar to key lime cookies and made lemon cookies using cake mix.

Lemon cake mix cookies taste heavenly and you wouldn't believe they are lemon cookies made with cake mix because they taste homemade. I've used the Duncan Hines lemon cake mix to make lemon cookies and it made the list of my favorite cookies. If you make lemon cookies out of cake mix, remember to use yellow food coloring instead of green. That would be weird if you didn't.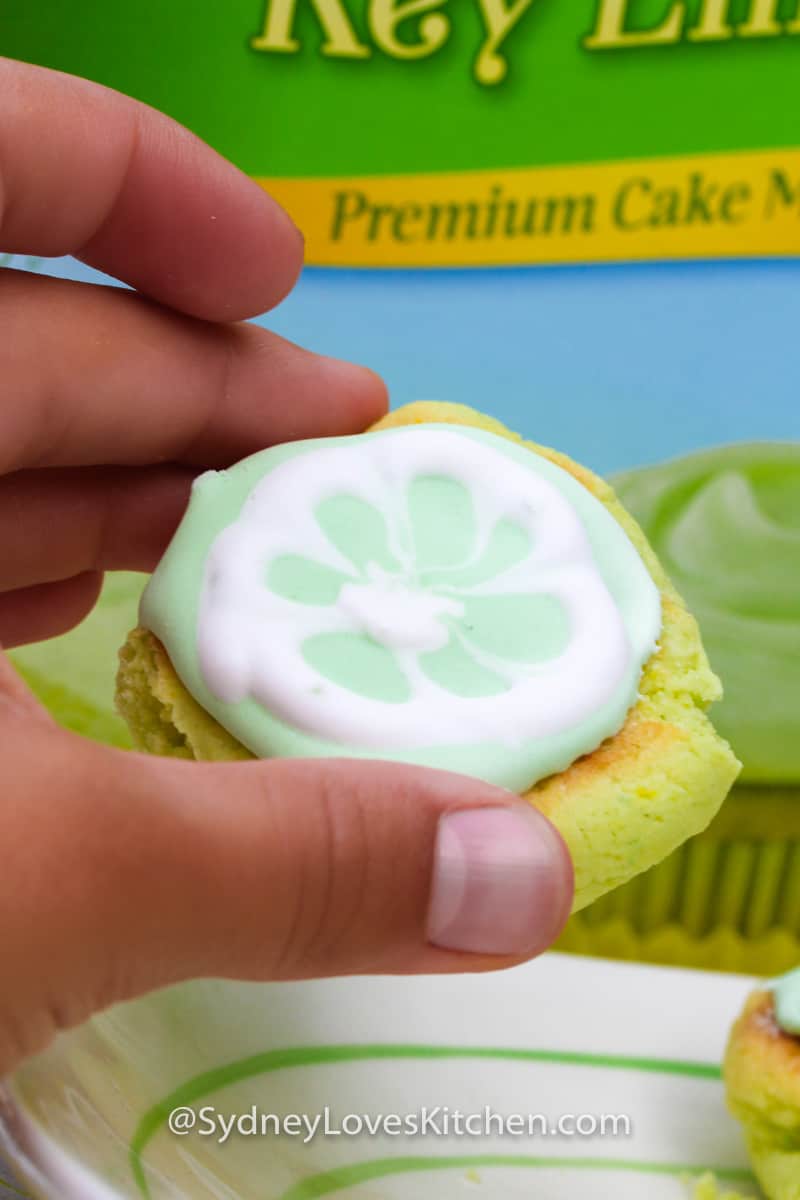 Of course there other cookies that taste as good as key lime cookies. You can't just make one type of cookie. Here is a list of my favorite cookies:
Chocolate chip cookies
Key lime cookies
Lemonade cookies
Orange crunch cookies
etc…………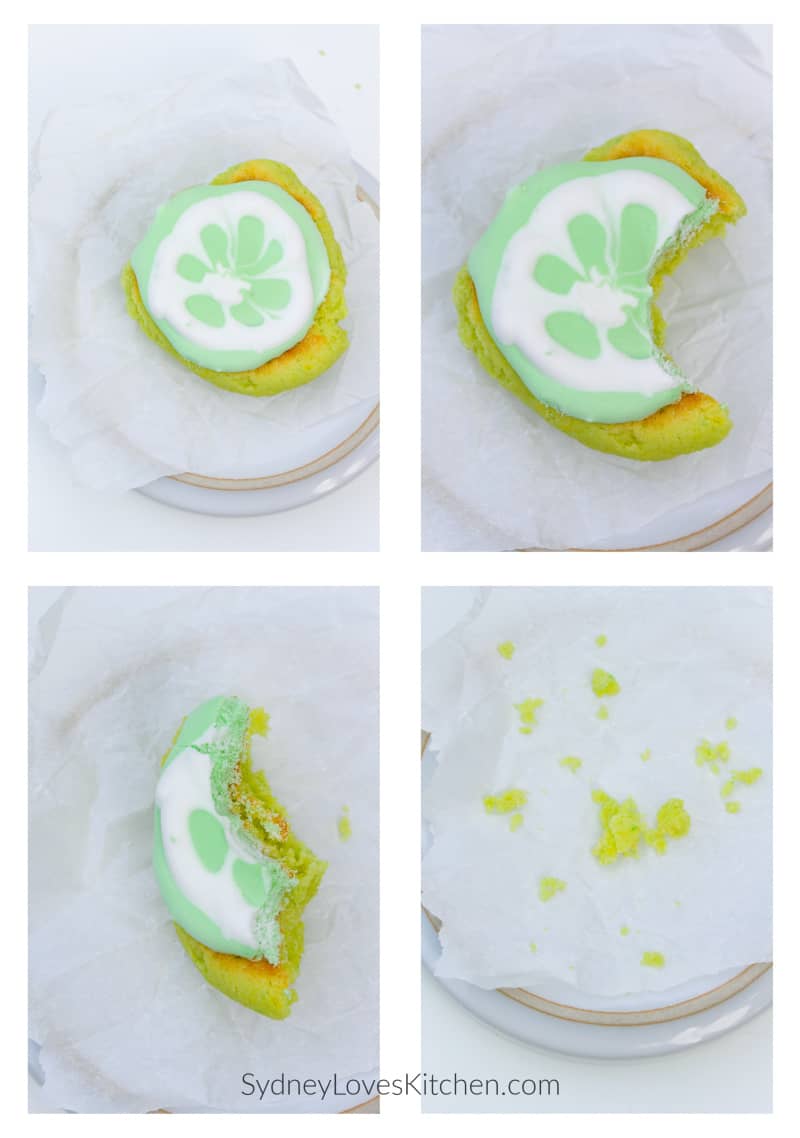 How to Store Key Lime Cookies
If you ever make too many and for some reason your friends don't eat them all then you will have to store your cookies for at least another day. If you know they are going to be eaten by your friend tomorrow then just cover them in plastic wrap and leave them on the counter. This way you get to show them off to everyone who comes into the kitchen.
If you are saving some for grandma who lives out of town and you won't be visiting for another week, then store them in an air tight container in the fridge. When you serve them, you can serve cold or at room temperature, etiher way it's so delicious! Grandma likes to let them warm up and eat them with a cold glass of milk. She says it reminds her of dreaming about the hot days she wants to spend in the Florida Keys.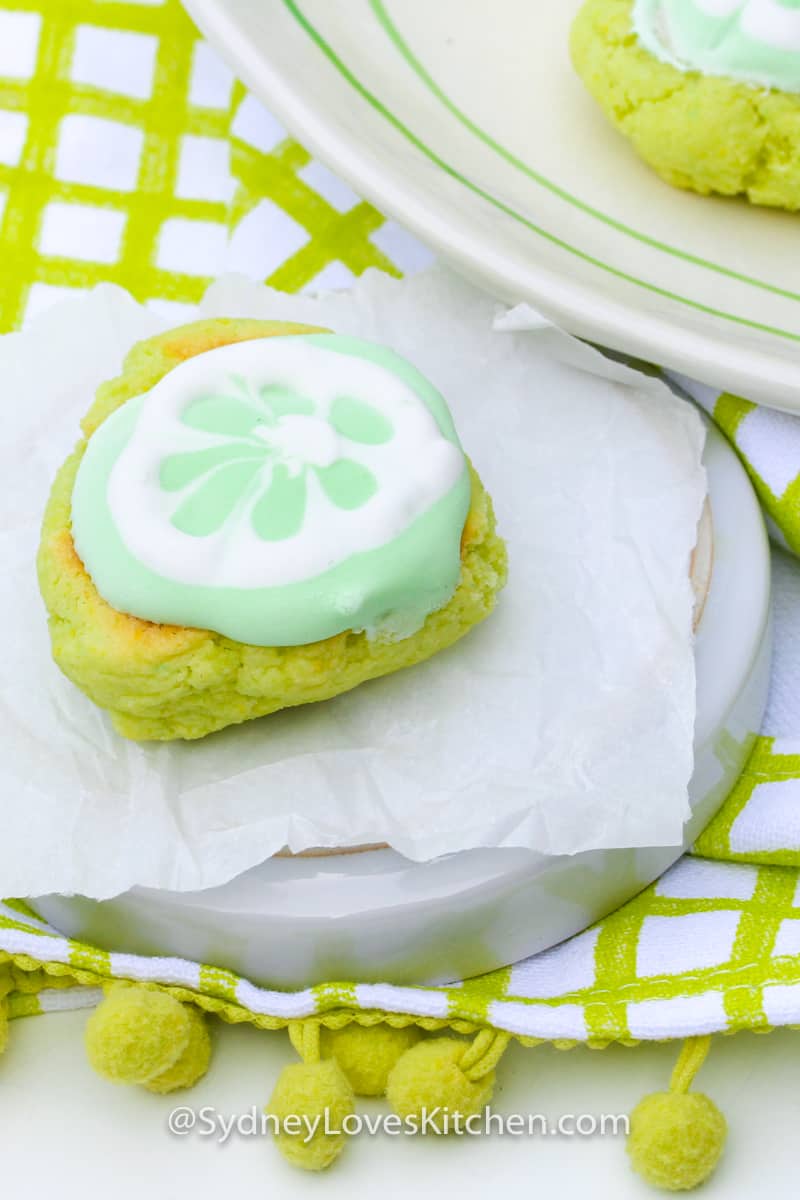 Now if you really made tons of cookies and you want to keep them for Christmas holidays, Easter or Valentines Day then put them in an airtight container and then in the freezer. They will last for months.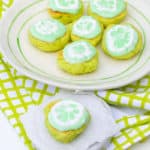 Print Recipe
Easy Lime Cookies
This Key Lime Cookie Recipe is so chewy and delicious it will make your mouth water with every bite.
Ingredients
1

box

key lime cake mix

15.25 oz

2

eggs

⅓

cup

melted butter
Icing (optional)
⅓

pound

confectioners sugar

sifted

1

egg white

1

teaspoon

lime juice

fresh or bottled

green food coloring

I use paste colors
Instructions
Preheat oven to 350F. Line a cookie sheet with parchment paper and set aside.

Using an electric mixer, mix the box of cake mix and the eggs. The texture should be like wet sand.

Add the melted butter to the egg and cake mix mixture. Combine until smooth. The cookie dough will be very thick and slightly sticky.

Let the cookie dough mixture set for 3-5 minutes because that will make it easier to scoop and roll. Scoop cookie dough and roll it in a ball then put it on the prepared cookie sheet.

Bake for 8-10 minutes. They will be soft but they will firm up.
Icing and How to Decorate (optional)
Add all Icing ingredients except food coloring to a medium bowl and mix with an electric mixer. Mix for 5-8 minutes until the peaks are stiff. Before this, it might be a bit like a glaze.

Add about two thirds of icing into a bowl. Add the green food coloring until you think it is a good green color (add a little at a time).

Put the white and green icing into two piping bags. if you don't have a piping bag, use a zip top bag and cut a small hole in the corner (which is what I used).

Flip over the cookies (icing the bottom). Pipe icing to cover them with the green icing and shake the cookie until the icing is flat. Work in groups of 3 at a time.

Add one dot of white icing in the middle and a circle around the edge of the cookie.

On the outside circle, take a toothpick and run the toothpick into the white dot in the middle. This will resemble a cut lime.

Allow cookies to set for 1-2 hours to harden and firm up. You can also serve them soft if you prefer.
Nutrition information does not include optional ingredients or garnish and is an estimate. It may change based on actual ingredients and cooking methods used.
PIN this Key Lime Cookie Recipe!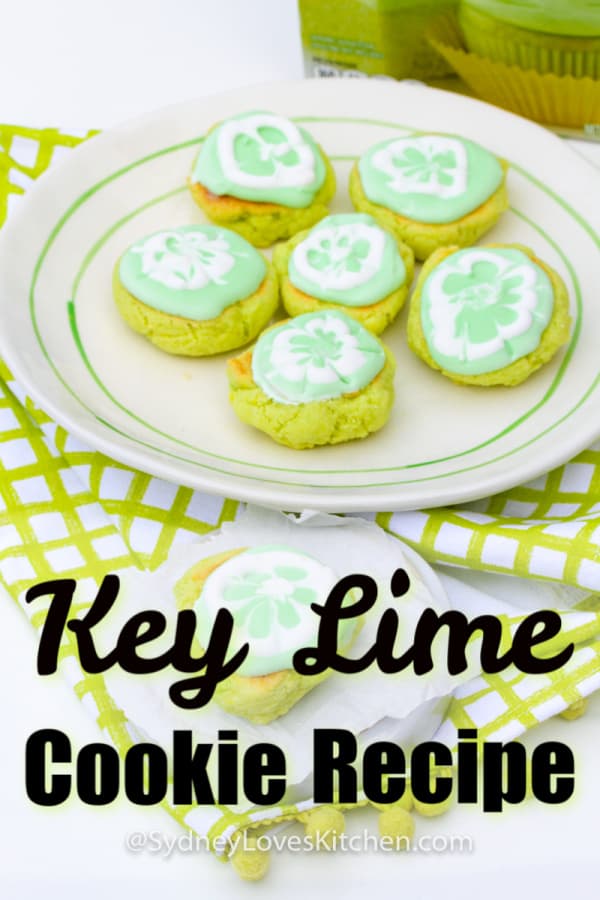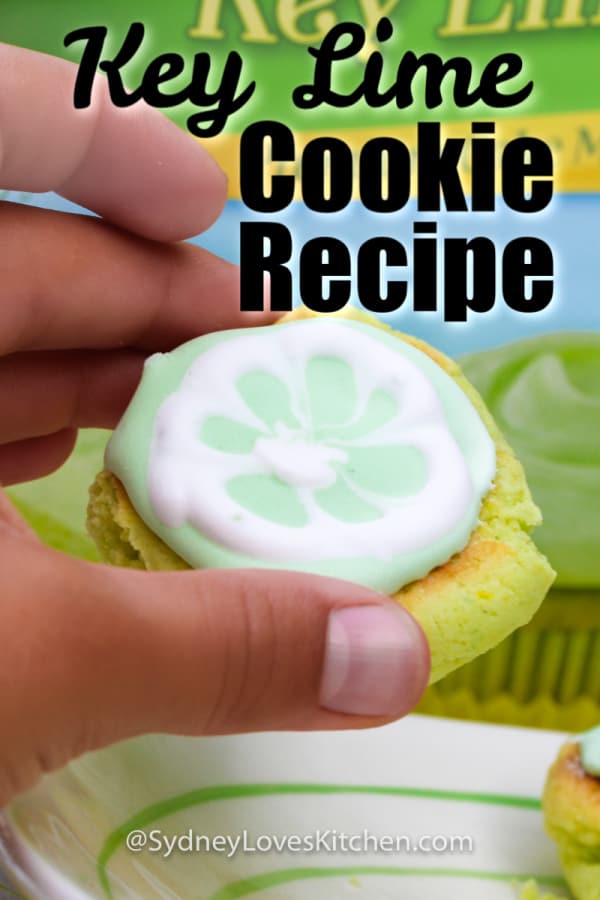 Cookie recipe adapted from Gimme Some Oven
Decorating inspiration and icing recipe from Bird's Party