This lavender cookie recipe is the bomb.com. Of all the different kinds of shortbread cookies, lavender shortbread cookies are my favorite.
These cookies are so good they will go with anything. Especially other cookies or desserts on my blog like Rosemary Shortbread Cookies, Sugar Cookies Easy Bake Oven Recipe or wash those cookies down with Mango Yogurt Smoothie.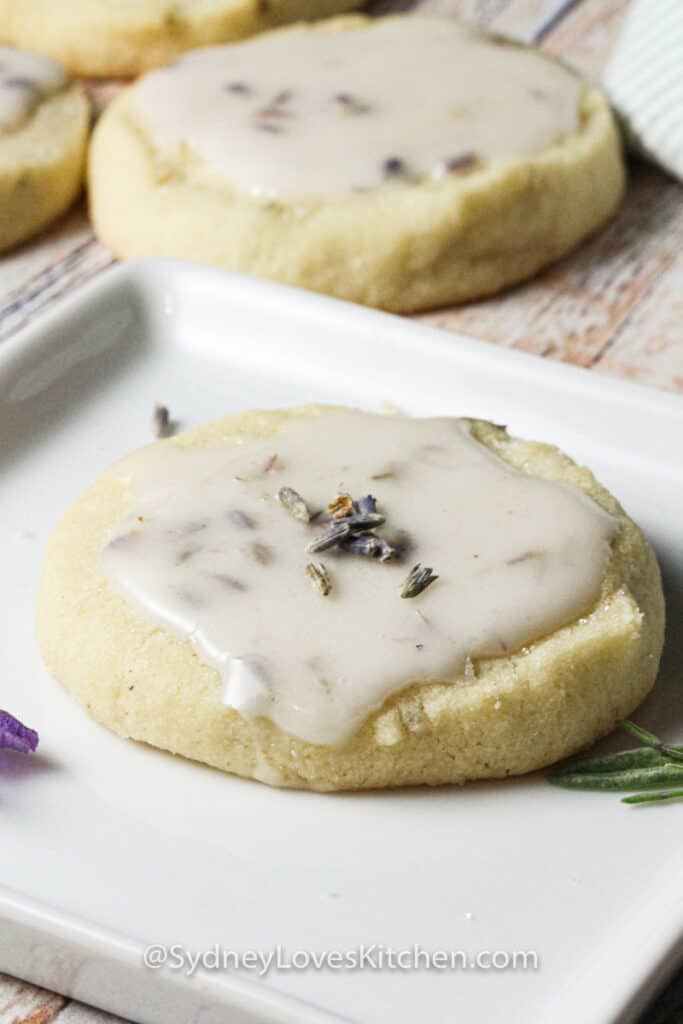 This post may contain affiliate links. Please read my disclosure policy.
Follow SydneyLoveskitchen on Pinterest for more great recipes and ideas!
PIN this Lavender Cookie recipe to your Dessert Board!
No joking when I say this is one of my all-time favorite flavors (next to CINNAMON!!!). Once my aunt gave me a blueberry and lavender cookie and this inspired me to make this tasty recipe. My mom and I have been wanting to make this recipe forever. Especially my mom, she found this lavender cookie recipe and wanted to make it before I was even born.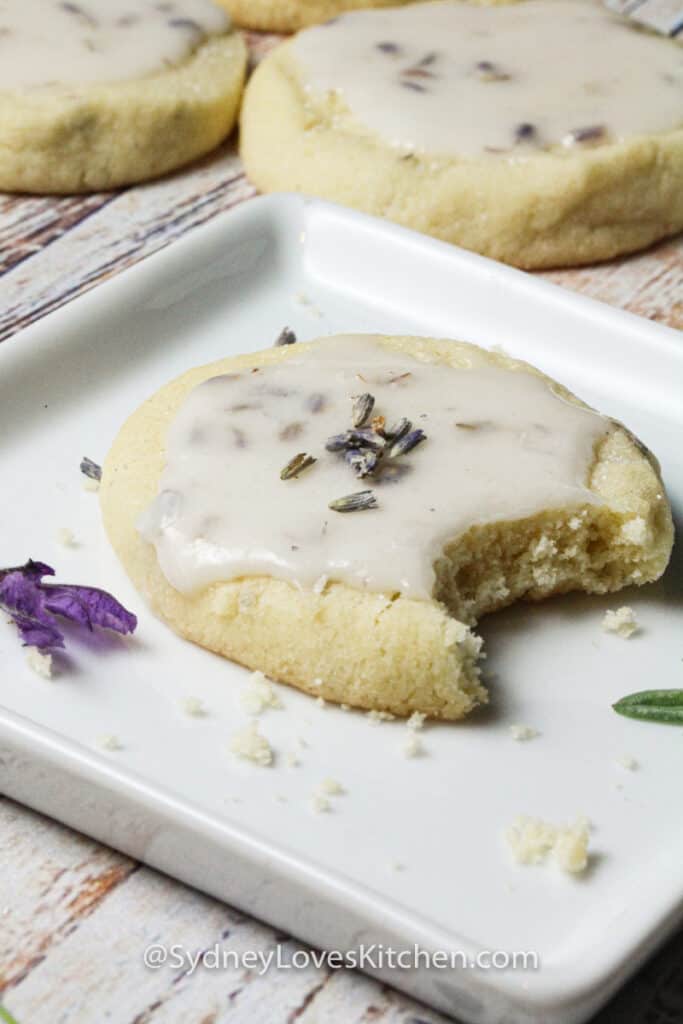 Are All Lavender Flowers Edible?
Not all lavender flowers are edible, but many are. Lavandula Angustifolia, also known as English Lavender, is the most common and readily available edible variety.
True story, at my friend's house they have a lavender plant in the backyard that smells amazing so we decided to eat a bunch of lavender flowers and they were delicious. We tried to eat the lavender flowers that have more nectar (deeper purple in color) because they tasted sweeter.
Later that same day we went to gymnastics together and saw more lavender in front of the gym building and ate some more. Then I went home and Googled "Can You Eat Lavender Flowers?" Good thing they are edible and I didn't need to call 911.
Where to Buy Culinary Lavender
I bought culinary lavender at a local market that has a dry goods and spice shop. You can find culinary lavender online at Amazon as well, and it'll be delivered right to your house!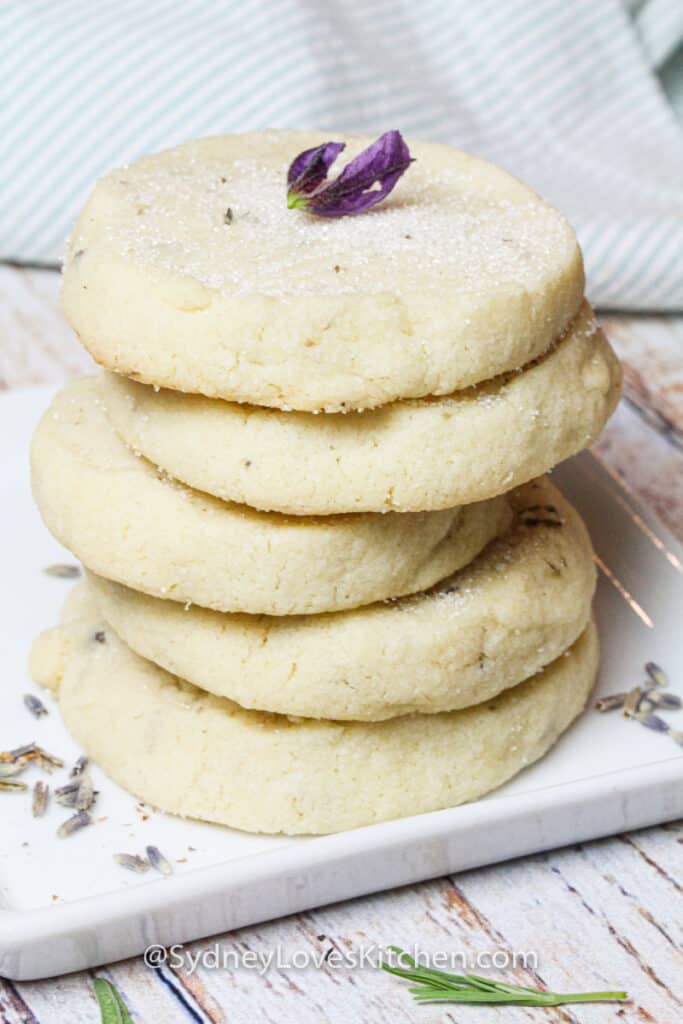 How To Make Lemon Lavender Icing or Lavender Glaze
The lemon icing is literally "The icing on the cake!" Oh, well, the icing on the cookie! Haha! Actually, what I am trying to say is that this lemon lavender icing is irresistible. This simple lemon icing recipe I invented because lemon goes very well with lavender.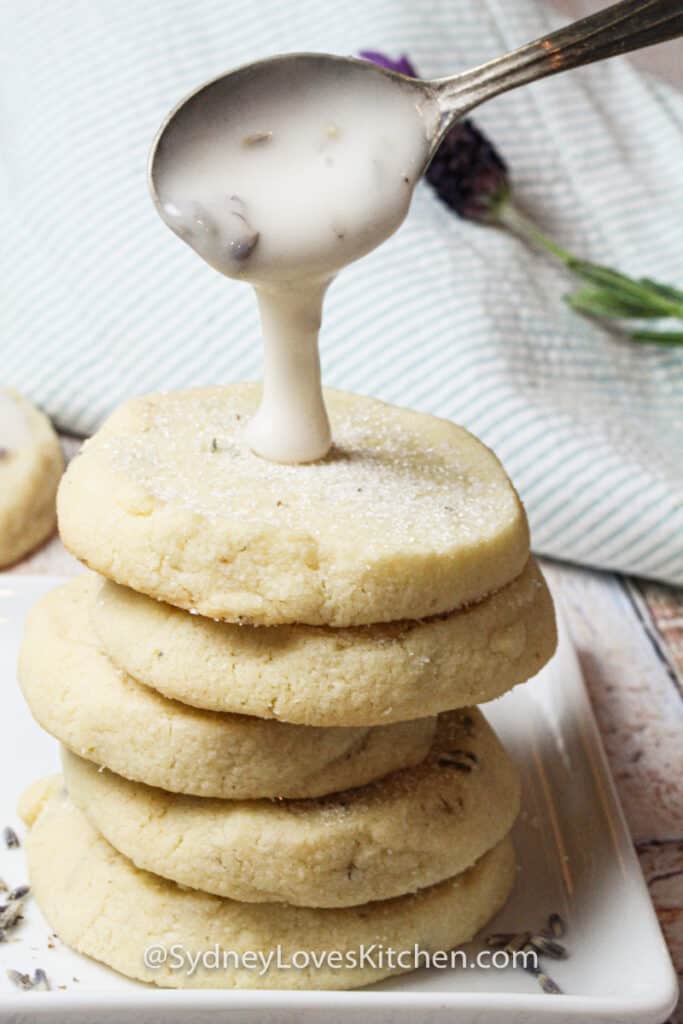 Super easy to make in a few steps:
Mix together powder sugar, lemon, and water
Add lavender to taste
How To Make Lavender Cookies
I like the smell of lavender – who doesn't? I'm 100 percent sure that you'll love this lavender cookie recipe.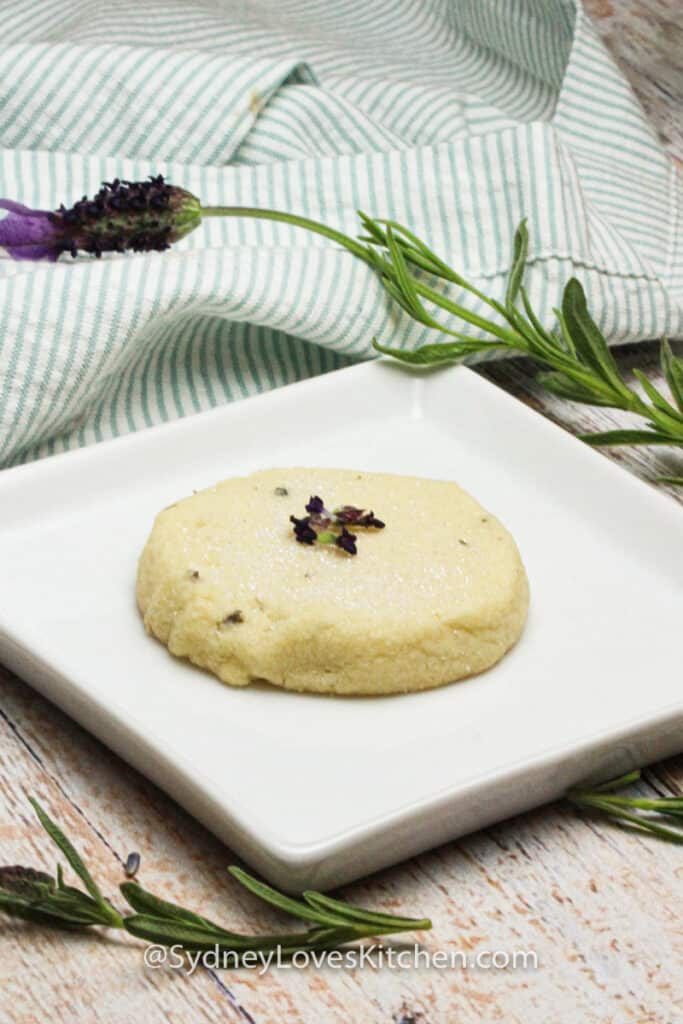 The best lavender shortbread cookies are easy to make in a few steps:
In a mixer beat butter, egg, sugar, vanilla, and lavender and add flour.
Roll out as a log and cut slices for cookies.
Place on cookie sheet and bake for 10 minutes.
How to Store Lavender Cookies
If I have any lavender cookies left after making a batch of them (and leaving my little brother alone in the kitchen), then they can be stored in an airtight container on the counter for about 5 days. After that just eat them all by yourself – don't tell anyone!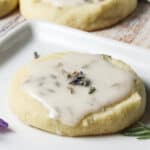 Print Recipe
Lavender Cookies
This lavender cookie recipe is the bomb.com. Of all the different kinds of shortbread cookies, lavender shortbread cookies are my favorite.
Equipment
Baking tray

Stand mixer

Plastic wrap
Ingredients
½

cup

butter

room temperature

½

cup

sugar

1 ½

teaspoon

culinary lavender

1

egg yolk

1

teaspoon

vanilla

1

cup

flour

¼

teaspoon

kosher salt

½-1

teaspoon

sugar

optional for garnish
Glaze (optional):
½

cup

powdered sugar

½

Tablespoon

water

½

Tablespoon

lemon juice

1 ½

teaspoon

culinary lavender
Instructions
Preheat oven to 350F. Line a baking tray with parchment paper.

In a stand mixer, cream butter, sugar, and lavender. Add egg yolk and vanilla and beat well.

Add flour and salt to mixer and beat until dough until it forms a ball, then mix with your hands.

On a floured work surface, shape the dough into a log 2 inches in diameter. Wrap in plastic wrap and chill for one hour in the fridge.

Slice dough into 14 slices, about ½ inch thick. Evenly space cookies on parchment lined baking tray. If desired, sprinkle cookies with sugar. Bake cookies for 10 minutes, until just as cookies start to slightly brown on edges.

Rest on baking tray 10 minutes then cool on a baking rack.
Glaze:
Add all ingredients to a bullet blender and mix together while shaking blender. Or add all ingredients to a small bowl and mix with a whisk until smooth. Lavender may break up as you mix and this is fine.

Add about ½ teaspoon of glaze on top of each cookie. Sprinkle with additional lavender if desired. Let dry and serve.
Notes:
Will keep about a week in an airtight container
Nutrition information does not include optional ingredients or garnish and is an estimate. It may change based on actual ingredients and cooking methods used.
PIN this Lavender shortbread cookie recipe!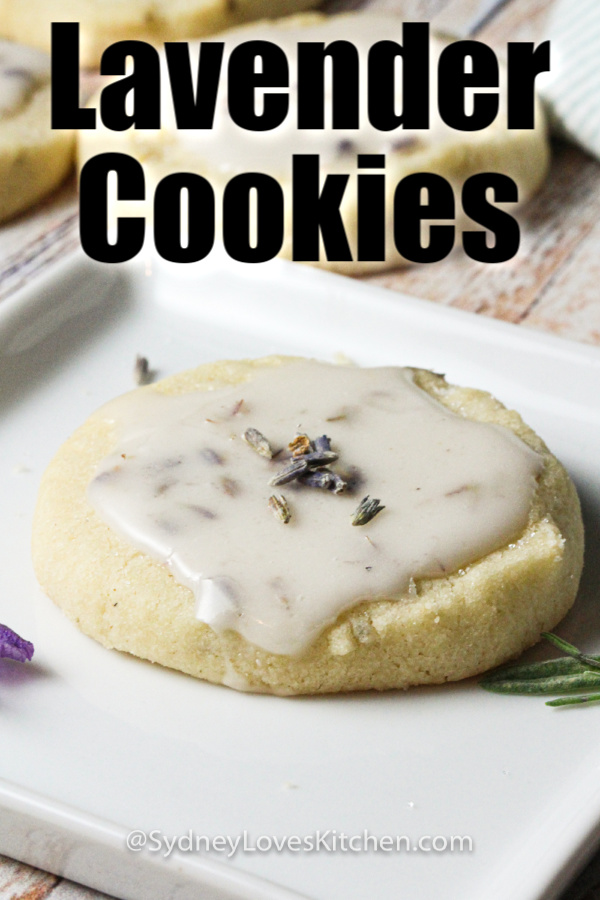 "Pelindaba Lavender Sables." Family Circle. New York: , August 9, 2005. 92. Print.