Simple Tater Tot Casserole is one of our family's favorite dinner! This hamburger tater tot recipe could feed a family of 3-4 people for two nights, but for our family, it lasts only one night because as soon as it hits the table, it is gone.
Serve with a salad, and finish off with Lavender Cookies for a delicious dessert!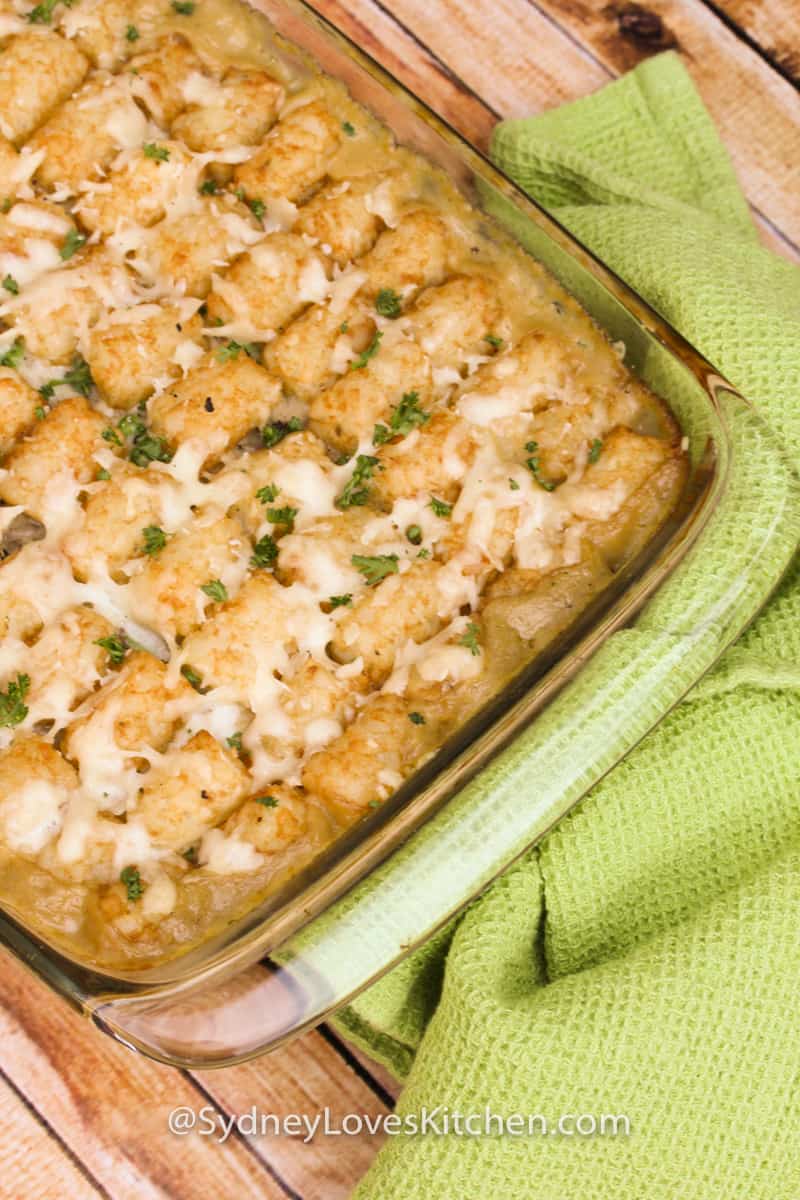 This post may contain affiliate links. Please read my disclosure policy.
Follow SydneyLoveskitchen on Pinterest for more great recipes and ideas!
PIN this Simple Tater Tot Casserole recipe to your Main Dishes Board!
This is a quick and easy tater tot casserole recipe to make and very fun to do with your kids – I love making it, and so does my little brother. The hardest part about this simple tater tot casserole is waiting for it to come out of the oven.
Tater tots are my friend's favorite food because she doesn't like many kinds of food, so when I serve her this dish, it's an achievement unlocked.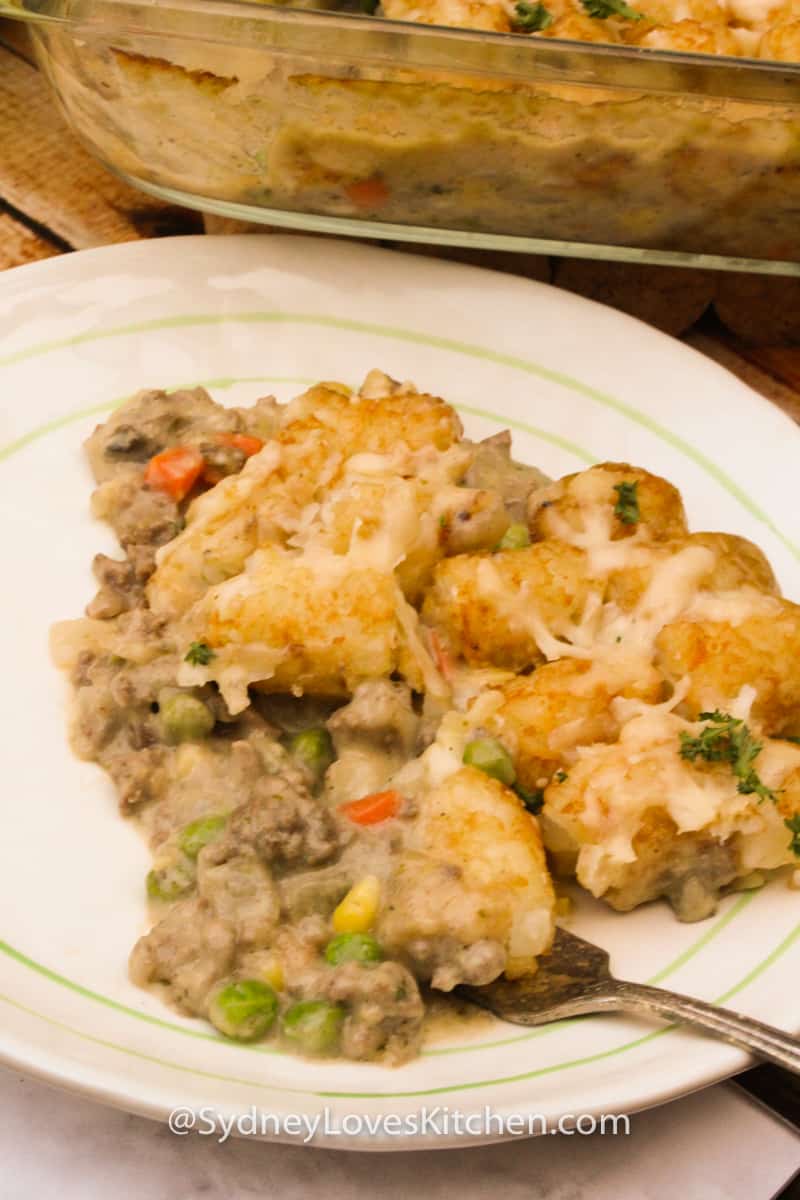 How to Make Tater Tot Casserole
Even a toddler can help make homemade tater tot casserole, they're as easy as my Rosemary Shortbread Cookies. A hamburger tater tot casserole begins with hamburger and some soup, veggies and tater tots!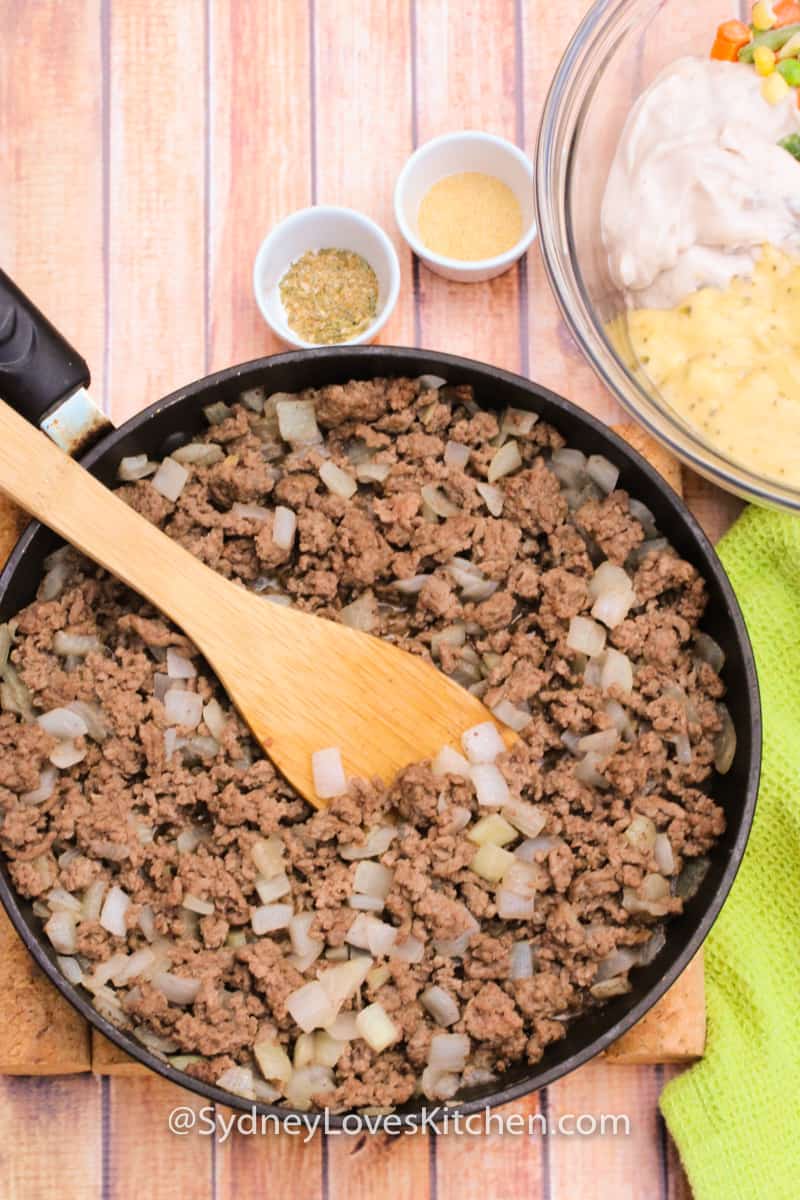 Here are the easy steps:
Cook beef with the onion and drain the fat.
Mix soup, seasonings, veggies, and half the cheese. Add the meat mixture and mix.
Evenly spread out the mixture in a casserole dish. Cover casserole with frozen tater tots (I like to make a nice pattern) and sprinkle with cheese.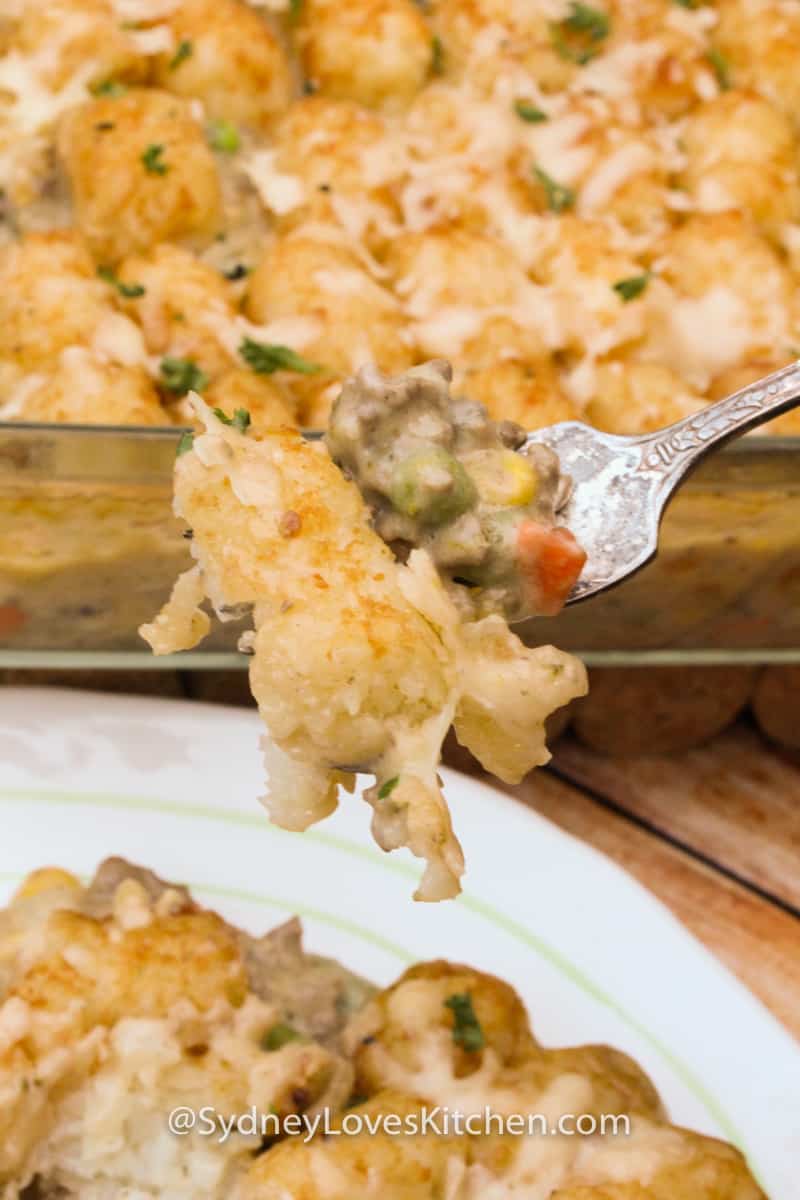 Where is The Best Place to Buy Tater Tots?
Send your parents out to buy them!  (lol)  or go with them if you want to go to the store. You can buy tater tots in most grocery stores.  Look in the freezer section of the store – near the ice cream.  Maybe buy some ice cream too while you are at it.  Just put it in the shopping cart and don't tell your mom.  She might not notice. We get our tater tots at Walmart. But pretty much any grocery store you will find frozen tater tots.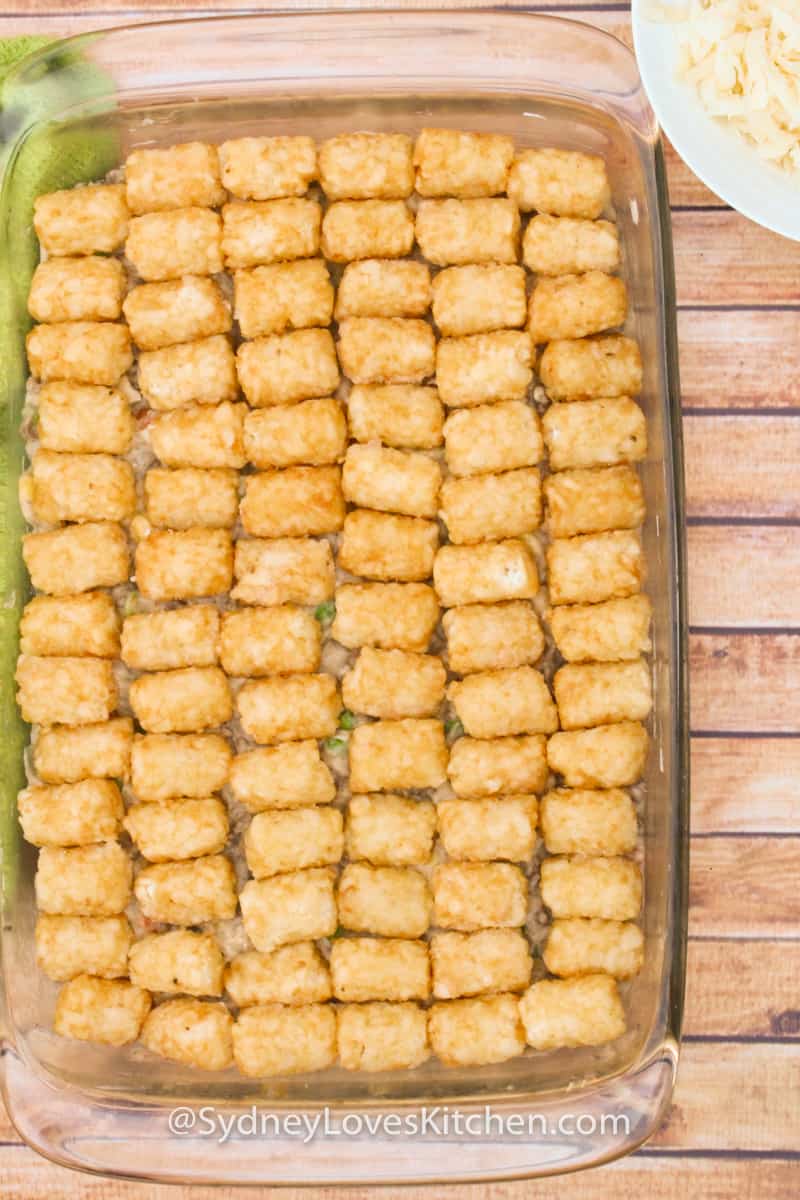 Easy Tater Tot Recipes
Tater tots are delicious and there are a lot of different tater tot recipes but this is the best tater tot recipe I know and the good thing about this recipe is that you can add a lot of things to it to make it different every time.
Things like
Ground chicken, turkey, or chorizo (spicy) instead of ground beef
To make taco tater tot casserole, add taco seasonings and shredded cheddar cheese or Mexican cheese mix on the top
For the base, try different kinds of cream soups like cream of mushroom, chicken or cheddar cheese
Frozen peas, corn or carrots (or a variety pack of all three)
Cheddar, mozzarella or jack cheese on top (or a variety pack of cheeses like Mexican cheese)
If you do not add the cheese, then the tater tots get crispier. My family loves cheesy tater tot casserole so we make it with cheese all the time.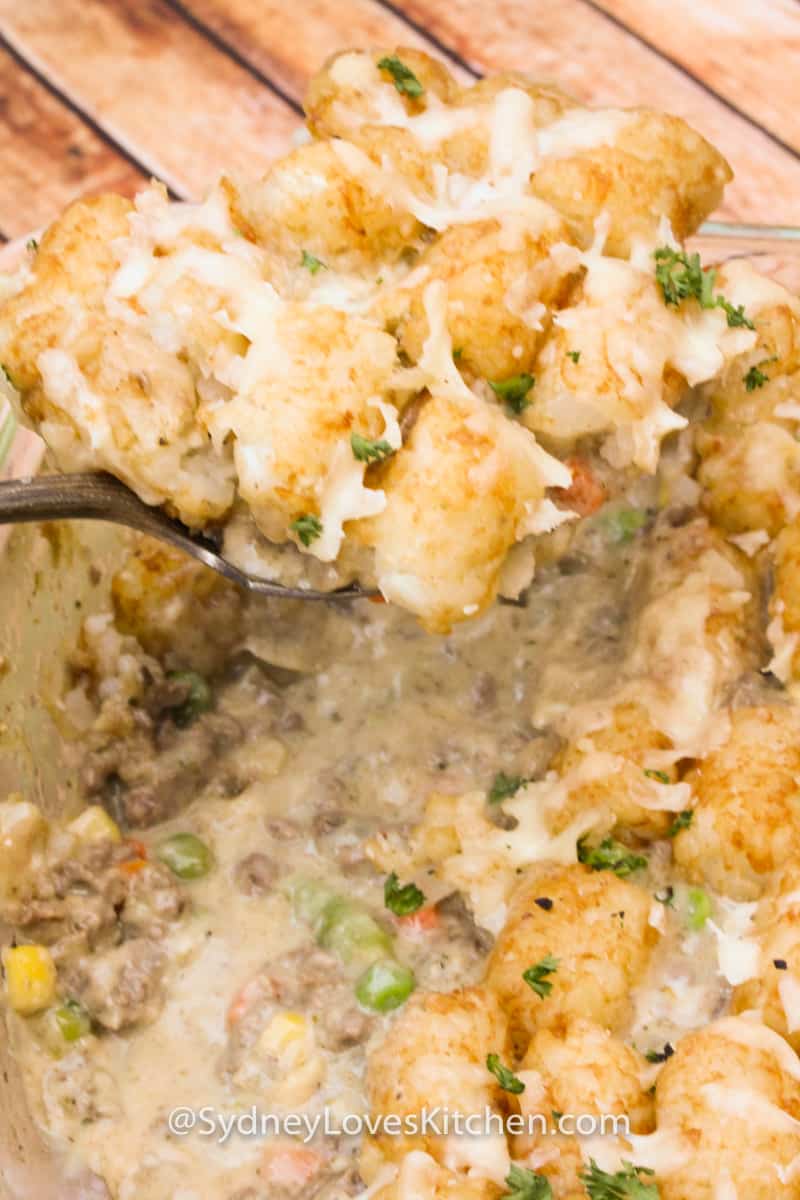 How Do You Store Hamburger Tater Tot Casserole leftovers
Leftovers? What are you talking about? There will be no leftovers but in this crazy situation that you do have leftovers, you can store the leftover hamburger tater tot casserole in the fridge. Wrap in plastic wrap. But if you are like us and you do not have very much space in your fridge, you can transfer it to a smaller airtight container and store it in your freezer so you can eat some other time.
It reheats in the microwave, or in the oven.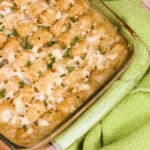 Print Recipe
Hamburger Tater Tot Casserole
This is a fast and easy recipe that takes very little effort to make and the kids will love every tater tot bite!
Ingredients
1

small onion

diced

1

pound

ground beef

10.5

ounces

cream of broccoli and cheese soup

1 can (or other creamed soup)

10.5

ounces

cream of mushroom soup

1 can

½

teaspoon

garlic powder

½

teaspoon

Italian seasoning

1 ½-2

cups

frozen vegetables

or fresh, diced

1 ½

cups

cheddar cheese

shredded, divided

salt and freshly ground black pepper to taste

2

pounds

tater tots
Instructions
Preheat oven to 375°F. Grease 9X13 casserole dish with butter.

In a frying pan cook onions for 5 min until soft and then brown the ground beef. Drain liquid from pan over sink.

Then mix together soup, Italian seasoning, garlic powder, ½ cup of cheese, salt, and pepper. Mix in the ground beef and onion mixture into the soup and cheese mixture.

Pour the entire mixture into a casserole dish and spread out evenly. Add tater tots on top and sprinkle the remaining 1 cup of the cheese.

Bake for 30-40 minutes until the casserole is bubbling and the cheese is melting.
Nutrition information does not include optional ingredients or garnish and is an estimate. It may change based on actual ingredients and cooking methods used.
PIN this Tater Tot Casserole Recipe!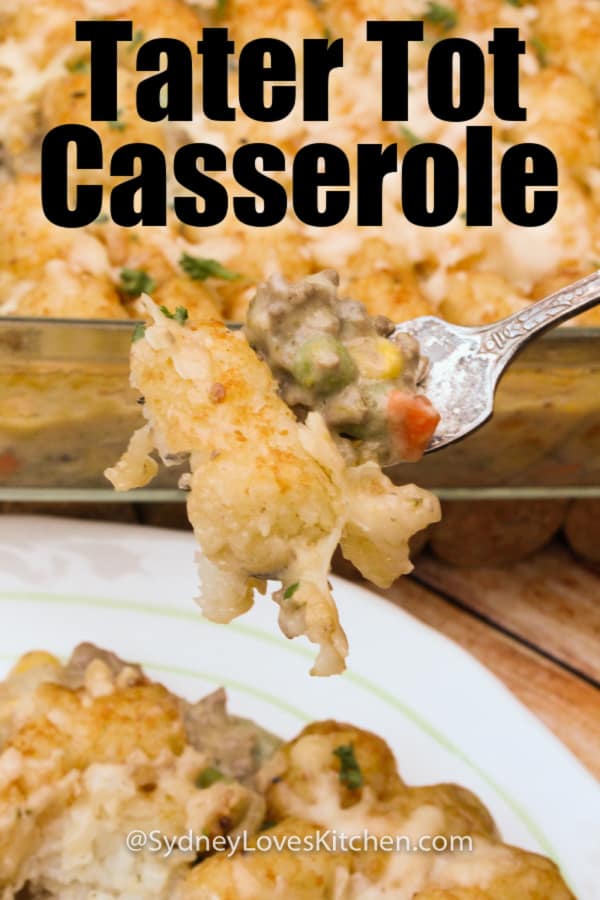 Recipe from Our Zesty Life