These rosemary biscuits are delicious and very easy to make. All you need is three ingredients: rosemary, salt and Pillsbury biscuit mix – it's that simple and that's why I love this recipe.

This post may contain affiliate links. Please read my disclosure policy.
Follow SydneyLoveskitchen on Pinterest for more great recipes and ideas!
PIN this Rosemary Biscuits recipe to your Baking Board!
Pillsbury
Pillsbury is a very great company that makes pre-made dough so when you want a yummy fresh hot bun or biscuit they've got you covered, all you have to do is pop them in the oven and presto they are ready to eat. I've always wanted to make this recipe because we use Pillsbury dough a lot and when I made it I thought it was so good. Whamo now it is on my blog!

It only takes 20 minutes: 4 minutes of prepping and 16 minutes of cooking, so you have enough time to make dinner, lunch or breakfast. We love having rosemary biscuits with steak or salad, it is so delicious. Also, sometimes I am too lazy to make breakfast so I just eat some leftover Pillsbury biscuits and call it breakfast for the day.
I recommend serving these biscuits like they are garlic bread or a mini-roll side dish, but if you want you can serve them as a main dish by wrapping them in mini hot dogs or sausages.

How to Make Rosemary Biscuits
Easy as:
Gather the ingredients
Open the Pillsbury rolls and spread on a cookie sheet
Add salt and rosemary
Bake for 16 minutes!
How to Store Rosemary Biscuits
You can store your rosemary biscuits in an airtight container in the fridge but try not to put them in the vegetable drawer of your fridge because they will get soggy.

How Do You Reheat Pillsbury Biscuits
Remove them from the fridge and warm them in the oven for 3 minutes at 350F on a parchment-lined cookie sheet and they will be warm and fluffy!
What Does Rosemary Taste Like
Rosemary is a nice aromatic herb that has a slightly minty, sage-like, peppery, balsamic taste with a bitter, woody aftertaste. And I know that when I say it has a woody aftertaste it might sound weird but it is truly lovely. This herb pairs perfectly with these biscuits so that is why I like to put rosemary on my biscuits.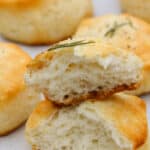 Print Recipe
Rosemary biscuits
this is a very fast and easy recipe that is delicious and only uses 3 ingredients
Ingredients
1

can

Pillsbury biscuits

1

sprig

rosemary

does not have to be exact (or use dry)

½

teaspoon

salt

or to taste
Instructions
Remove rosemary leaves from rosemary sprigs.

Layout biscuits on a baking tray and sprinkle rosemary salt or salt on top.

Add 3-4 rosemary leaves on each biscuit, or to taste.

Bake for 13-16 minutes or until golden brown on the edges. Enjoy!
Nutrition information does not include optional ingredients or garnish and is an estimate. It may change based on actual ingredients and cooking methods used.
PIN this rosemary biscuits recipe!